Samsung Sound Bar Codes [The full list Of Codes]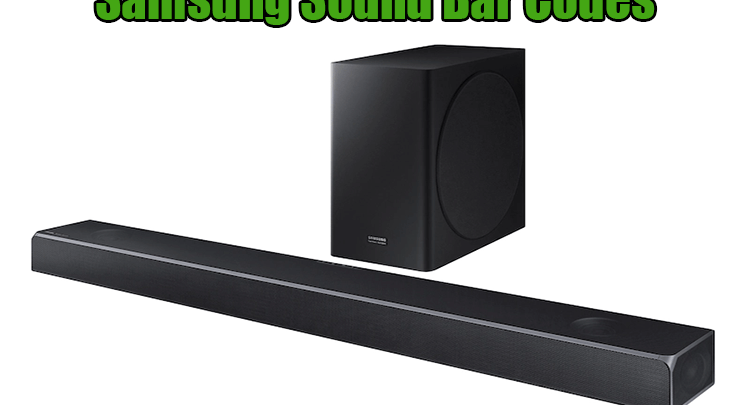 Last Updated on August 18, 2020 by Randall
Who doesn't know Samsung? I think most of us have at least one device from Samsung, even a TV, SoundBar, DVD, or a phone. Today we are going to talk about Samsung sound bar codes, for people who lost their remote control.
When you buy a new Samsung Soundbar, usually it comes with ist remote control, but if it happened and you lost your remote control just go for a universal remote and get the codes listed above to program your universal remote with Samsung Soundbar.
Read also: Samsung DVD Remote Codes
One Code for All Universal Remote Codes For Samsung Saoundbar
The 5 digits for Samsung Sound Bar Codes
32609
31949
20045
32600
21014
22609
How To Program Universal Remote Control For Samsung Saoundbar
Turn on your Samsung Soundbar.
Point your universal remote to the soundbar
Look for the Menu on your remote control.
Press on the Settings button and Program remote.
Choose the Sound option.
When the tiny light will blink 4 times for above and take any of the codes and enter it, if you choose the right code the tiny light will go off, if not just try another code.
Now you have done and you need to be sure the remote code is corking, press any of the buttons and you'll see.
Check also: Jumbo Universal Remote Codes
Alternative button to make your remote TV working for your Soundbar Samsung
This operation won't work for you id you haven't a Samsung TV, so pick your remote of your Samsung TV and do the following:
Use the TV remote to navigate to Settings, select Sound, and then select Sound Output on your Samsung TV.
Select your Samsung soundbar, and then select Close. Now you can use your TV remote to adjust volume and mute the soundbar. The soundbar should also turn on and off with the TV.
You can also read this guide on the Official Samsung Website to make sure that everything is clear for you, however, if you have any questions make sure to comment below and we will be happy to help.